Updated 19th January 2022
PASTORAL LETTER from Ruth Edy (19.01.22)
On 6th January, I 'de-frocked' the Christmas tree, (it was the perfect shape and height and had come from Geoff and Carol's wood on the Whiteway!) and I lovingly wrapped up again the olive wood nativity set which I bought in Bethlehem in 1999 (I'm still using its original box and packaging!). These January rituals are almost as nostalgic as the Advent rituals when Christmas begins to happen. A few days later, while reading about the Festival of Candlemas, which is at the beginning of February, I found out that in some countries and in some traditions, Christmas decorations aren't taken down until February 2nd. Ah, I could have had the tree and the nativity scene on display for a bit longer!
But I do still have in place a sort-of home-made Advent calendar, well, not home-made so much as pick-your-own! I bought it one year at Dobbies garden-centre in one of those after-Christmas sales. [note to self: look out for some more good offers!]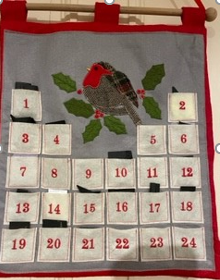 It has 24 pockets for you to fill as you wish and, when I hang it up, I find the little bits of paper I put in the pockets in previous years. Confession – I didn't look at all the pockets through the days of Advent this year, so it's nice to have it to dip into now. Today, I looked in pocket number 10. The little bit of paper had the words, 'Hope has a name...'
I guess that must have been the experience of the elderly priest, Simeon, and Anna - the prophetess, who both encountered Jesus as a baby in the Temple at Jerusalem, when his parents brought him there for the Jewish purification rites (see Luke 2. 21 - 40). As well as the Feast of Candlemas, this special day is also called The Feast of the Holy Encounter. Simeon and Anna had been waiting and waiting all their lives for God's salvation to appear, and now their hopes had been realised – Hope has a name – Jesus.
Early in his ministry Jesus said, 'The Spirit of the Lord is upon me, because he has anointed me to bring good news to the poor. He has sent me to proclaim release to the captives and recovery of sight to the blind, to let the oppressed go free, to proclaim the year of the Lord's favour. [Luke 4. 18 - 19]
I haven't done new year's resolutions for a number of years now: instead, I try to find a phrase I can carry with me through the year. It's a whole lot more manageable and comfortable!
This will be my mot juste for 2022: 'Hope has a name….'
Happy Feast of Candlemas! Happy Feast of the Holy Encounter!